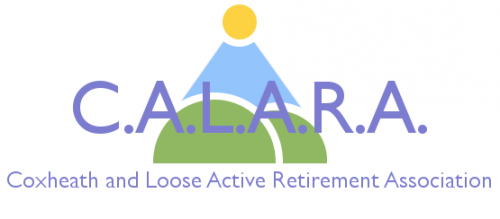 CALARA
Coxheath and Loose Active Retirement Association is a club for retired members aged 50+ living in the Coxheath and Loose Area. We were formed in April 1999 so we are celebrating our 20th Anniversary this year.
We are a club based in Coxheath Residents Village Hall for Active members having a variety of regular and occasional activities.
Monthly we hold a general meeting with speakers and entertainment and a chance to meet up and perhaps book an activity or trip.
Weekly activities Include: Exercise class (Elastixs), Cribbage, Whist, Short Mat Bowls, Line Dancing, Singing Group, Art and Craft, Bowls
We have MONTHLY Lunches, Country Rambles and Strolls
There are 2 HOLIDAYS booked in 2018 for Weston-super-Mare and Cyprus
There are also DAYS OUT and THEATRE TRIPS
So why not come and join us?
Our club a non-profit members organisation which is affiliated to the Kent Active Retirement Association (KentARA) and therefore our members can take part in the many additional activities that KentARA organise.
We are limited to 200 full members because of the capacity of the Village Hall, and currently there is a waiting list for full membership. However, Associated Membership is available which would entitle you to join in any of the activities and trips.
Annual membership costs just £5 a year and Associated Membership is £2 a year.
This includes the monthly meeting. Activities are charged for separately.

For General Enquiries and Membership contact



General Enquiries
Chris Baker:
01622 746323


For full details of CALARA visit our web site:
www.calara.org.uk
Membership
Chris Coleman:
01622 744041